Warning: This Wiki Contains Spoilers! Please Read At Your Own Risk.
Welcome to the Gekkan Shoujo Nozaki-kun Wiki

This community is dedicated to providing up-to-date information about the manga and anime series, Gekkan Shoujo Nozaki-kun (Monthly Girls' Nozaki-kun) by Tsubaki, Izumi.
This wiki has 7,856 edits, 262 articles, and 807 images, but many pages are still lacking information and are under construction. Any contributions are much appreciated, so come and help this wiki grow! Contact an admin for assistance.
Synopsis
High school student Chiyo Sakura has a crush on her schoolmate Umetarou Nozaki, who is secretly a shoujo manga artist known as Sakiko Yumeno. When she decides to confess her love to him, Umetarou mistakes her for a fan and gives her an autograph instead. Then, when she says that she always wants to be with him, he invites her to his house, but has her help on some drawings.  Chiyo then discovers Nozaki's secret, but agrees to be his assistant since she has good drawing skills. As they work on his manga "Let's Fall in Love", they encounter other schoolmates who assist them or serve as inspirations for characters in the stories!
Recent Chapter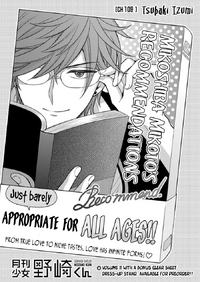 Issue 109

---
From true love to niche tastes, love has infinite forms!♡

Mikoshiba is called to a cafe to discuss important matters with a girl...
... but who knew the discussion would be so interesting!

They better watch what they say or they may be taken the wrong way.

Read more in 109th issue of the manga!

Featured Article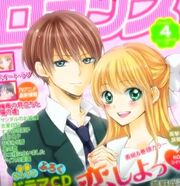 Let's Fall in Love

---
Let's Fall in Love is Yumeno Sakiko's bestselling manga published under Monthly Girl's Romance. It is able to capture the hearts of young girls for its romantic story and characters featuring Saburou Suzuki, Mamiko, Oze and...
Featured Image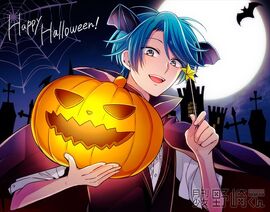 Affiliates
Contact me to request for affiliation.
Community content is available under
CC-BY-SA
unless otherwise noted.