Warning: This Wiki Contains Spoilers! Please Read At Your Own Risk.
Welcome to the Gekkan Shoujo Nozaki-kun Wiki

This community is dedicated to providing up-to-date information about the manga and anime series, Gekkan Shoujo Nozaki-kun (Monthly Girls' Nozaki-kun) by Tsubaki, Izumi.
This wiki has 8,909 edits, 283 articles, and 870 images, but many pages are still lacking information and are under construction. Any contributions are much appreciated, so come and help this wiki grow! Contact an admin for assistance.
Story
Roman Highschool student Chiyo Sakura confesses to her crush Umetarou Nozaki, but instead of a reply, she is given an autograph from the author of the acclaimed shoujo manga, Let's Fall in Love, Sakiko Yumeno! Huh?
She agrees to help work on the manga to get closer to him and meets other assistants who are students in their school. Hijinks ensue among a group of people who are not what they initially seem!
Recent Chapter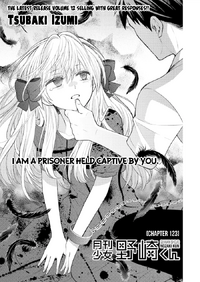 ---
I am a Prisoner Held Captive by You.

Emotions are complicated, and happiness isn't always what it seems.

Can there be happiness while there is sadness? How does the heart react?

That, that is the appeal of a happy-bad ending.

Write more about the 123rd issue of the manga!

Monthly Features

Article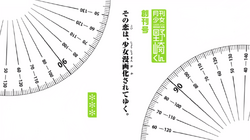 ---
This Love Is Being Turned Into a Shoujo Manga is the first episode of the anime. Chiyo Sakura decides to confess to the boy she likes, Umetarou Nozaki. Fumbling over her word choice...
The Manga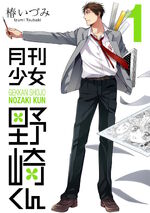 Monthly Girls' Nozaki-kun (月刊少女野崎くん, Gekkan Shoujo Nozaki-kun) is a RomCom 4-koma written by Izumi Tsubaki serialized in Gangan Online by SquareEnix. Official English translations are published by Yen Press. A 12-episode anime adaptation was aired on 2014.
News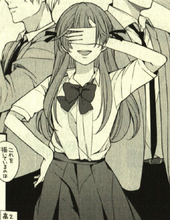 ---
According to Tsubaki Izumi, Volume 0 will feature the original concept for GSNK starring a high school Yumeko Nozaki, and two guys named Ichijou and Ritsuo. It also hints seeing Nozaki, Mayu and Mikoshiba 3 years in the future for its special!
Promotional Video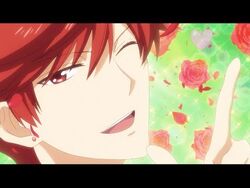 Affiliates
me to request for affiliation.
Community content is available under
CC-BY-SA
unless otherwise noted.